Lactation/ breastfeeding
Breastfeeding: foundation for life- a recognition of the importance of breastfeeding to a baby's future.
Establishing exclusive breastfeeding- feeding infants nothing but breastmilk for the first six months of life- helps young children grow, preventing undernutrition, promoting brain development, and reducing the risk that children will become overweight.
Breastfeeding is also a new-born's first vaccine, providing vital antibodies and an immunity boost. From the earliest moments of a child's life, breastfeeding can mean the difference between life and death. Putting new-borns to the breast within the first hour of life safeguards against new-born deaths.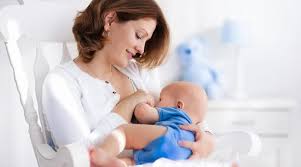 And in emergency settings, when communities are faced with limited access to clean water and basic health services, breastfeeding guarantees a safe, nutritious and accessible food source for infants and young children, while shielding them from disease.
"Only 54.9% children under the age 6 months have been exclusively breastfeed, according to the latest National Health and Family Survey (NHFS-4)
The latest survey also shows that 56% of the rural children below 6 months were exclusively breast feed, while it was only 52.1% amongst urban children.
A paper publishes jointly by Associated Chambers of Commerce and Industry of India (ASSOCHAM) and Ernst and Young says India presently has 50% of the world's undernourished children. The report outlines that India has lost nearly 4% of its GDP to malnutrition. Given the role exclusive breastfeed plays in ensuring adequate nutrition of infants, this is a critical area for the government and citizens to get together and act.